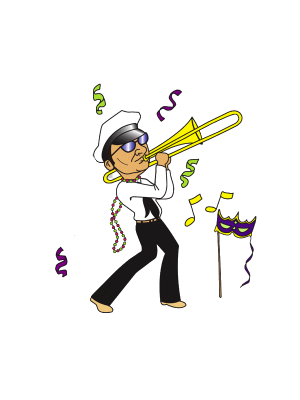 Longue Vue
House & Gardens 🏡
Your guide to this Classical Revival-style mansion and surrounding gardens.
The Longue Vue House & Gardens will uniquely add to your family's fun in New Orleans.
Located on the western edge of the city, just past the Cemeteries and hidden among the trees off Metairie Road, is Longue Vue House and Gardens. This magnificent city estate with a Classical Revival-style mansion is surrounded by eight acres of breathtakingly landscaped gardens designed by some of the finest outdoor architects of the early 20th century.
The home was built by the late philanthropists Edgar Bloom Stern, a New Orleans businessman and cotton broker, and his wife Edith Rosenwald Stern, an heiress of the Sears department store family. It was designed by renowned architects William and Geoffrey Platt and Ellen Biddle Shipman, Dean of American Women Landscape Architects. It has been classified as a National Historic Landmark since May 2005.
Longue Vue House and Gardens is a multifaced historic estate featuring a world-class museum and eight acres of stunning gardens that include an unparalled collection of Louisiana irises and an interactive Discovery Garden for children of all ages. Longue is open seven days a week for tours, special occasions, and educational and community programs.
"Longue Vue is one of the last true examples of the Country Era Place homes that reflect the sumptuous lifestyles of the affluent in the early 20th century and is one of the few of this kind in the Deep South. The elegant interior design, created by Shipman, includes a diverse collection of American and English antiques, needlework, intricate fabrics and wall coverings, French and Oriental carpets, and an antique creamware pottery collection. The home also boasts a unique collection of Op-Art and Kinetic Art pieces. The amazing components will add to your fun in New Orleans.

A graceful stairway framed by shining white Doric columns leads to the upper stories where the Sterns maintained elaborately furnished bedrooms. In another room is a collection of architectural and landscaping memorabilia, including early plans for the house and gardens."
"The gardens of Longue Vue complement the splendor of Spanish Court, inspired by the Gardens of the Alhambra in Spain. The array of lyrical fountains shooting arches upward across a long rectangular pool with the mansion in the background are perhaps the most stunning features of the estate and probably the most photographed. Most of the gardens that Shipman designed for the Sterns are still intact today or have been recently restored using the original Shipman plans."
©  2018 The Other Cheek, Inc. All Rights Reserved.