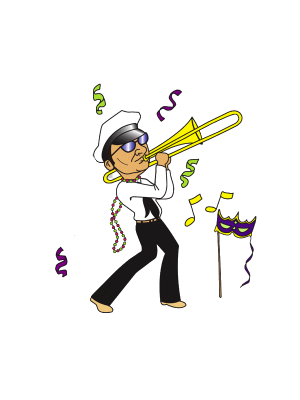 Mardi Gras
World 🎭
Mardi Gras World - Where Every Day Is Mardi Gras!
Family Fun in New Orleans must include a trip to Mardi Gras World!

The early days of what has grown into Kern Studios started with Roy Kern, a local artist-turned-sign-painter who worked his way through the Depression by painting names and signs on the bows of freighters and barges.
Roy and his son Blaine built their first Mardi Gras float together on the back on a mule-drawn wagon in 1932. Unable to pay his mother's medical bills, Blaine offered to paint a mural in the hospital, which caught the eye of a surgeon who was also the captain of a Mardi Gras Krewe. This captain invited Blaine to design and build floats for his Krewe, and Kern Studios was officially founded in its current form in 1947. One float led to another, and before long Blaine became the city's leading parade designer and builder, working with Rex, Zulu and other legendary krewes.
After many requests for private tours of Kern Studios from people wanting a sneak-peak of Mardi Gras, the Kerns decided to open up the working studio to the public. In 1984, Mardi Gras World was created as a tourist attraction to provide visitors a behind-the-scenes look of our work. Widely successful, the attraction draws hundreds of thousands of visitors from all over the world each year. To complete your fun in New Orleans, put Mardi Gras World on your "must see" list!

1380 Port of New Orleans Pl., New Orleans, LA 70130
60 minute tours are offered 7 days a week
The first tour begins at 9:30AM
The last tour begins at 4PM
Tours run every 30 minutes and last about an hour
Each tour includes a display of Mardi Gras costumes, a video presentation, and a free slice of King Cake
A free shuttle is provided with ticket purchase and provides pickups from 20 convenient downtown locations
Historic tours, ghost tours, swamp tours – there are plenty of tours in New Orleans. But for a real, behind-the-scenes look at New Orleans Mardi Gras, there's only one definitive experience: the Mardi Gras World tour.
Taking the Mardi Gras World Tours will ensure your family has fun in New Orleans. Our tour allows you to see firsthand what it takes to bring Mardi Gras to life year after year. Walk through the hard work and extensive planning that goes into this grand event when you tour Blaine Kern Studios, an operating workshop that has created breathtaking floats for Mardi Gras and other parades around the world since 1947.
On the tour, you'll be paired up with a knowledgeable guide who takes the mask off of Mardi Gras. The whole family will love touring the space. There are so many photo opportunities in front of floats, with props, or wearing a traditional Mardi Gras costume, so don't forget to bring your camera! And bring your appetite, too: every tour comes with a slice of King Cake (which is a real delicacy, as it's hard to find out of season!).
©  2018 The Other Cheek, Inc. All Rights Reserved.