Family Fun In New Orleans Week of 02/01 – 02/07/19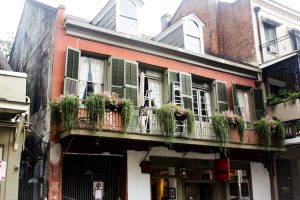 This is another exciting week for Families attending Conventions in New Orleans. It is a week full of family fun and educational things to do, for kids and parents of all ages. Every week Fun In New Orleans offers a list of the many activities focused on Family Friendly Activities. These Activities are Family-Focused. They have been conveniently arranged by Festivals & Entertainment, Museums, Sporting Events, and Other Fun Filled Activities occurring this week. Please consider Subscribing to our Monthly Newsletter or Sharing it with your friends. After your visit we'd love to hear about your experiences!"
Thursday, February 7th – King Cake Walk During Odgen After Hours
What would The Crescent City be without king cake? Having this scrumptious, traditional, and seasonal New Orleans dessert is a right of passage for every traveler's first visit to New Orleans.
Doughy, cinnamon-y goodness that's baked almost like a cinnamon roll, but braided in a circle, sprinkled with colored sugar or covered in icing. No matter how it's made, you'll always see Mardi Gras's 3 colors: purple, green, and gold.
If you and your family are in New Orleans this time of the year, you have to go to this!
Think of this as taste-testing the competition from several local bakeries.
Walk around and taste king cakes from participating New Orleans bakeries. The best part besides tasting scrumptious king cake? You get to cast your vote!
Awards given include Audience Choice, the Band's Pick and Best in Show, which is selected by a guest judge. Also featured is live music.
Location and Hours:
The Ogden Museum of Southern Art, 6PM-8PM
Ticket Prices:
Adults: $13.50
Children (Ages 5-17): $6.75
Children (Under 5): Free
Seniors: $11
Students (need I.D.): $11
Join us Awards given include Audience Choice, the Band's Pick and Best in Show, which is selected by a guest judge. Come to the O to kick off the Mardi Gras season with cake and live music! Free for members, $13.50 general admission.
You can read about the history of king cake here.
Saturday, February 2nd – StoryQuest @ New Orleans Museum of Art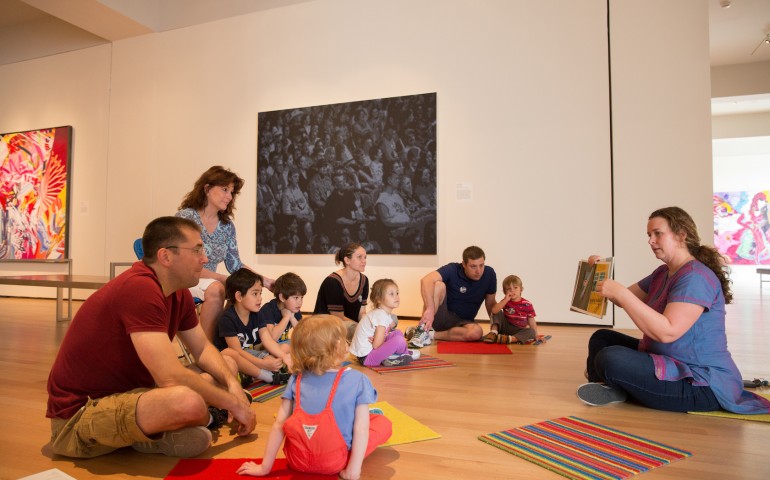 If your children love stories and adventure, then StoryQuest is your mission! Family fun in New Orleans can't get more interactive than this.
"Spark imagination, creativity, and a love of reading. Professional authors, actors, and artists bring the world of children's literature to NOMA in this family program."
Family activities are offered after each StoryQuest to encourage museum exploration.
This exciting family activity is ideal for kids ages 2-7. Luckily, you don't need a registration to come AND StoryQuest is included in the price of the museum admission.
This event takes place on select Saturdays throughout the year. This week's topic: WINTER.
Major support for StoryQuest is provided by the Patrick F. Taylor Foundation.
Saturday, February 2nd & Sunday, February 3rd – BrickUniverse LEGO Fan Expo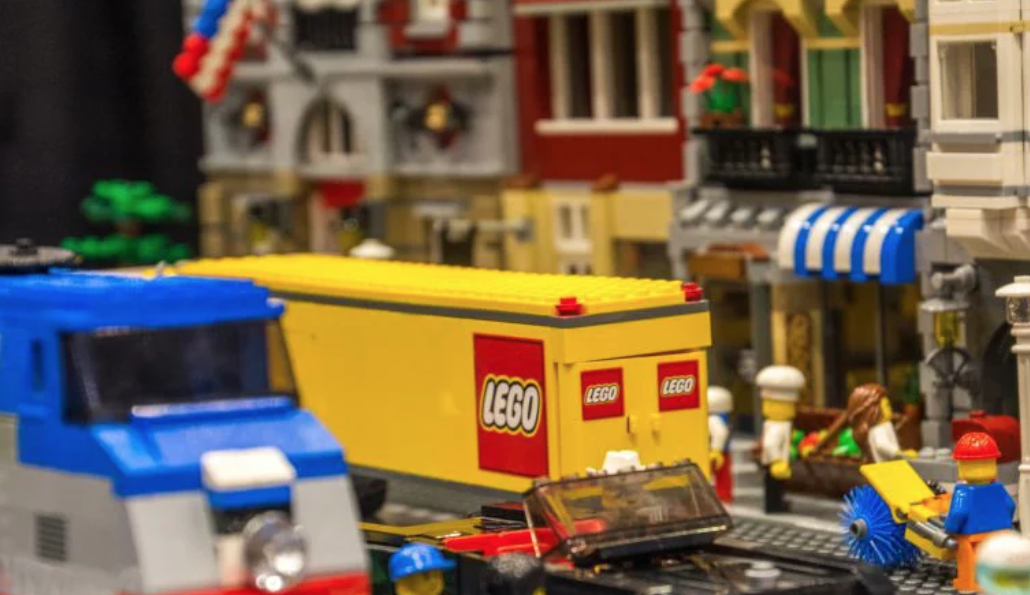 Are you a LEGO fan? Did you ever play with LEGOs for fun when you were a kid?
Then this is the place for you! Bring your children and join in on the family fun at the BrickUniverse LEGO Fan Expo as it comes to the Big Easy!
This is an event organized by fans, for fans of all ages. There is so much to do here:
Professional LEGO artists from around the world will be showcasing hundreds of their creations.

Ranges from small intricate creations to massive large-scale creations.
Built with tens of thousands of LEGO bricks.
You'll get to spend time with these builders and learn the secrets of master building. 
Multiple building zones

You and your family will have the chance to build your own LEGO masterpieces and showcase them for all to see.
There will also be many vendors that sell items:
new, old, and custom sets
new, old, and custom parts
merchandise and t-shirts
jewelry
new and old minifigures
and much more!
Address: Pontchartrain Convention & Civic Center
Hours: Saturday & Sunday, 10AM-4PM.
Tickets and ticket info are available here.
August 31st, 2018 – December 31st, 2019 – "We Love You, New Orleans" @ The Cabildo
Your visit to New Orleans' historic French Quarter would not be complete without a stop at Jackson Square, which is where you will find the Cabildo. This elegant Spanish colonial building neighbors St. Louis Cathedral and houses many rare artifacts of America's history.
In commemoration of the city's 300th anniversary, the Louisiana State Museum debuted a new exhibition, We Love You, New Orleans!, celebrating people, places, and things that are quintessentially New Orleans including Sidney Bechet's saxophone, a Mardi Gras Indian suit, memorabilia from Pontchartrain Park, and a K&B sign, among other things.
Hours are Tuesdays – Saturdays, 10AM – 4:30PM.
Ticket Info:
Adults – $9
Students, senior citizens, active military – $7
Children 6 and under – Free
Groups of 15 or more (with reservations) – 20 % discount
School Groups (with reservations) – Free
Purchase tickets for two or more museums – 20 % discount
AAA membership discount – 10 % discount
You can learn more about the Cabildo and this event here!
Saturdays & Sundays: Jazz Brunch at Commander's Palace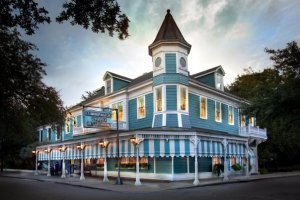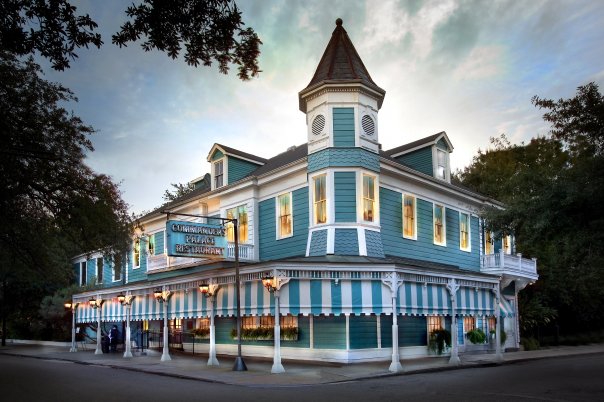 Commander's Palace, nestled in the heart of the historic New Orleans Garden District and steps from the St. Charles Avenue streetcar line, is the birthplace of the Jazz Brunch – a clever response to famous New Orleans traditions, such as "Dinner at Antoine's" and "Breakfast at Brennan's". This is a one-of-a-kind event and is entirely different from what you would get with the lunch and dinner menu here. It features a special menu and Live New Orleans Jazz by the Joe Simon's Jazz Trio.
The following items that you can probably expect to see on the menu are the Turtle Soup, Candy Apple Lacquered Quail, the Creole Gumbo, Pecan Roasted Gulf Fish, Cochon De Lait Eggs Benedict, Buttermilk Biscuits, and Sugarcane & Black Pepper Bacon. Oh, and don't forget the desserts! Get "The Queen of Creole Desserts" – the Creole Bread Pudding Souffle – with a warm whiskey sauce added table side. Both this and the Strawberry Shortcake must be ordered in advance. Also great desserts are Lally's Praline Parfait, as well as the Pecan Pie a la Mode. Here is a sample menu – there's something on here that everyone can enjoy, from age 6 to age 90.
Jazz Brunch Hours:
Saturday 11AM – 1PM
Sunday 10AM – 1:30PM
You'll want to dress nice for this occasion and especially make sure the kids are dressed in their "Sunday best".
The official Dress Code:
Business Attire
Gentlemen should wear jackets
Collared shirts and closed-toe shoes required for gentlemen
No shorts, flip-flops, t-shirts, sweat shirts, or sweat pants
Jeans are discouraged
There is complimentary valet service provided, so that you don't have to worry about parking.
Other Exciting Things Going On for Families Visiting New Orleans
While in New Orleans this week, there are numerous venues include tours such as walking Tours of the French Quarter, Swamp Tours,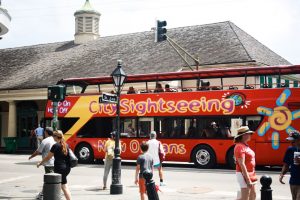 Plantation Tours, Cemetery tours, and many others found under our Tours menu tab.
For Families Visiting New Orleans the fun places to go, the food, and activities are endless. Each week, we provide the Fun Happening This Week in New Orleans offering the Family Friendly activities that can be enjoyed by all members of the family. Come back next week for our updates. Consider following us on Social Media and subscribing to our monthly newsletter, Family Fun In New Orleans!
Come on down as the Cajun French from Louisiana say "Laissez les bons temps rouler", let the good times roll!