Family Fun In New Orleans Week of 02/22 – 02/28/19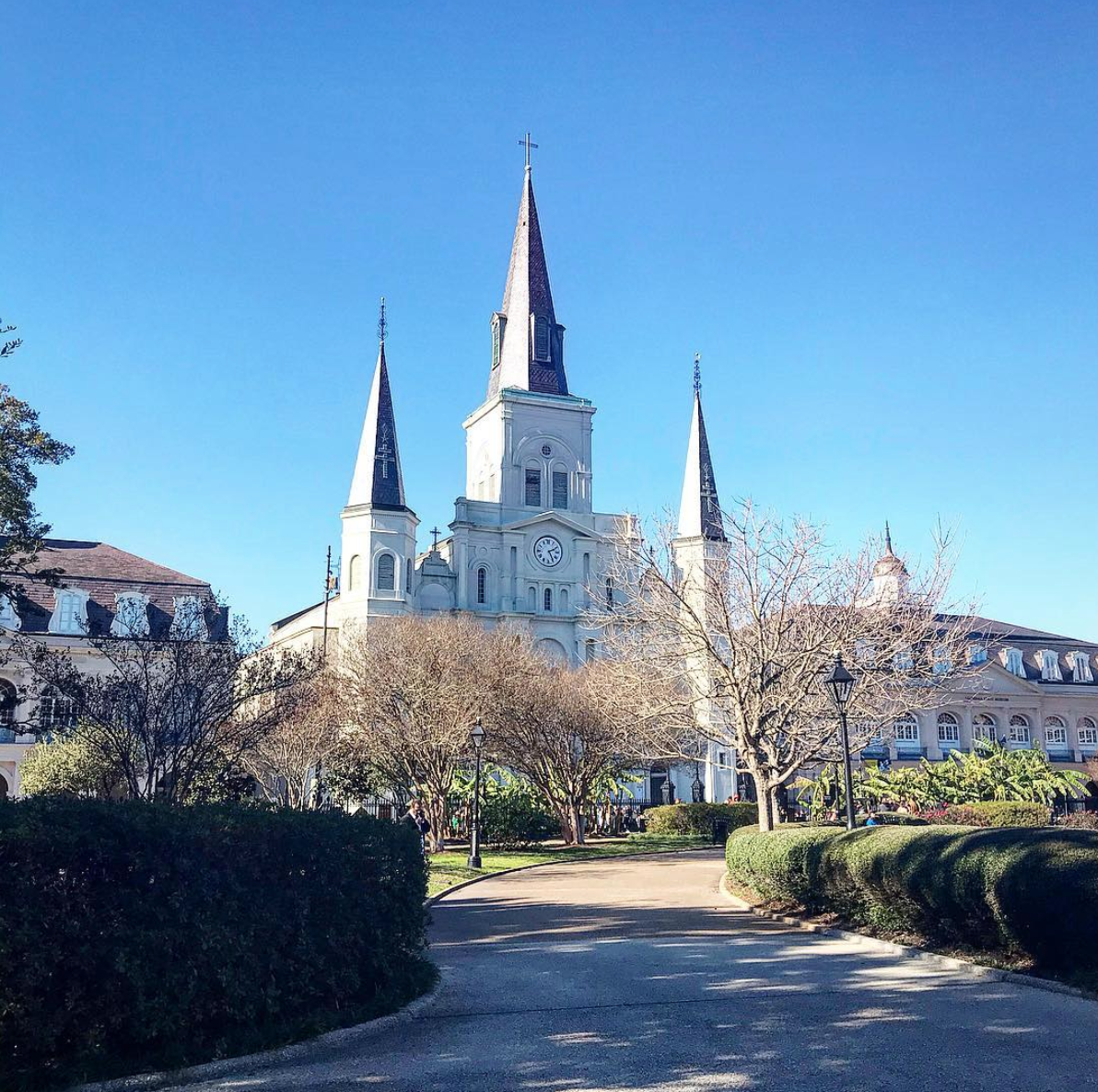 This is another exciting week for Families attending Conventions in New Orleans. It is a week full of family fun and educational things to do, for kids and parents of all ages.
Every week Fun In New Orleans offers a list of the many activities focused on Family Friendly Activities. These Activities are Family-Focused.
They have been conveniently arranged by Festivals & Entertainment, Museums, Sporting Events, and Other Fun Filled Activities occurring this week.
Please consider Subscribing to our Monthly Newsletter or Sharing it with your friends. After your visit we'd love to hear about your experiences!"
Family Gras

– Friday, 02/22 through Sunday, 02/24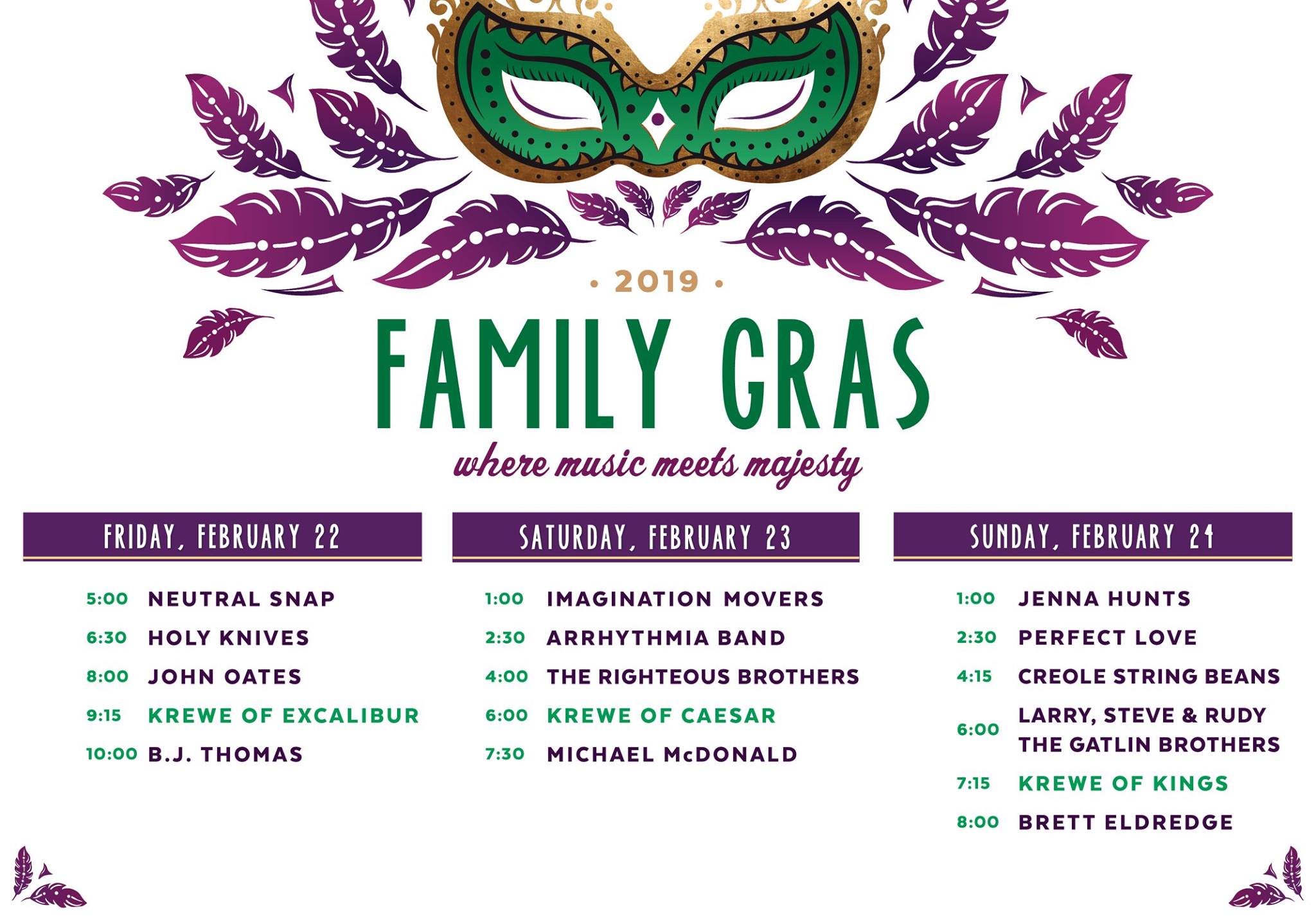 Family Gras is a weekend celebration of carnival, costuming and concerts. At Family Gras, the majesty of Mardi Gras meets the family-friendly fun of Jefferson Parish in this special event that brings out the kid in crowds of parade lovers.
If you're looking for the family friendly version of Mardi Gras, this is the perfect event for you! Your kids will love all of the family activities and family vibe that this event has to offer. It's certainly the best alternative to traditional Mardi Gras!
Live bands fill the air with rockin' music, while families, both parents and kids alike, enjoy some of the most unique food the world has to offer. And when the music stage goes silent, the crowds will roar with excitement over carnival in Jefferson Parish as several of Mardi Gras' most original "krewes" celebrate Louisiana's "joie de vivre".
Hours:
Friday, February 22nd:
Performances: 5:00-11:15 PM
Krewe of Excalibur rolls through Family Gras approximately 9:15-10:00PM
Saturday, February 23rd: 
Mardi Gras 5K Run at 10:40AM with winners announced on Family Gras Stage at 12:30PM
Performances: 1:00-8:45PM
Krewe of Caesar rolls through Family Gras at 6:00-7:30PM
Sunday, February 24th: 
Performances: 1:00-9:30PM
Krewe of Kings rolls through Family Gras approximately 7:15-8:00PM
Enjoy an "Up Close & Personal" experience with backstage access, premium stage viewing and access to VIP food & beverage with the VIP 3-day Weekend Royal Pass! Purchase VIP tickets here!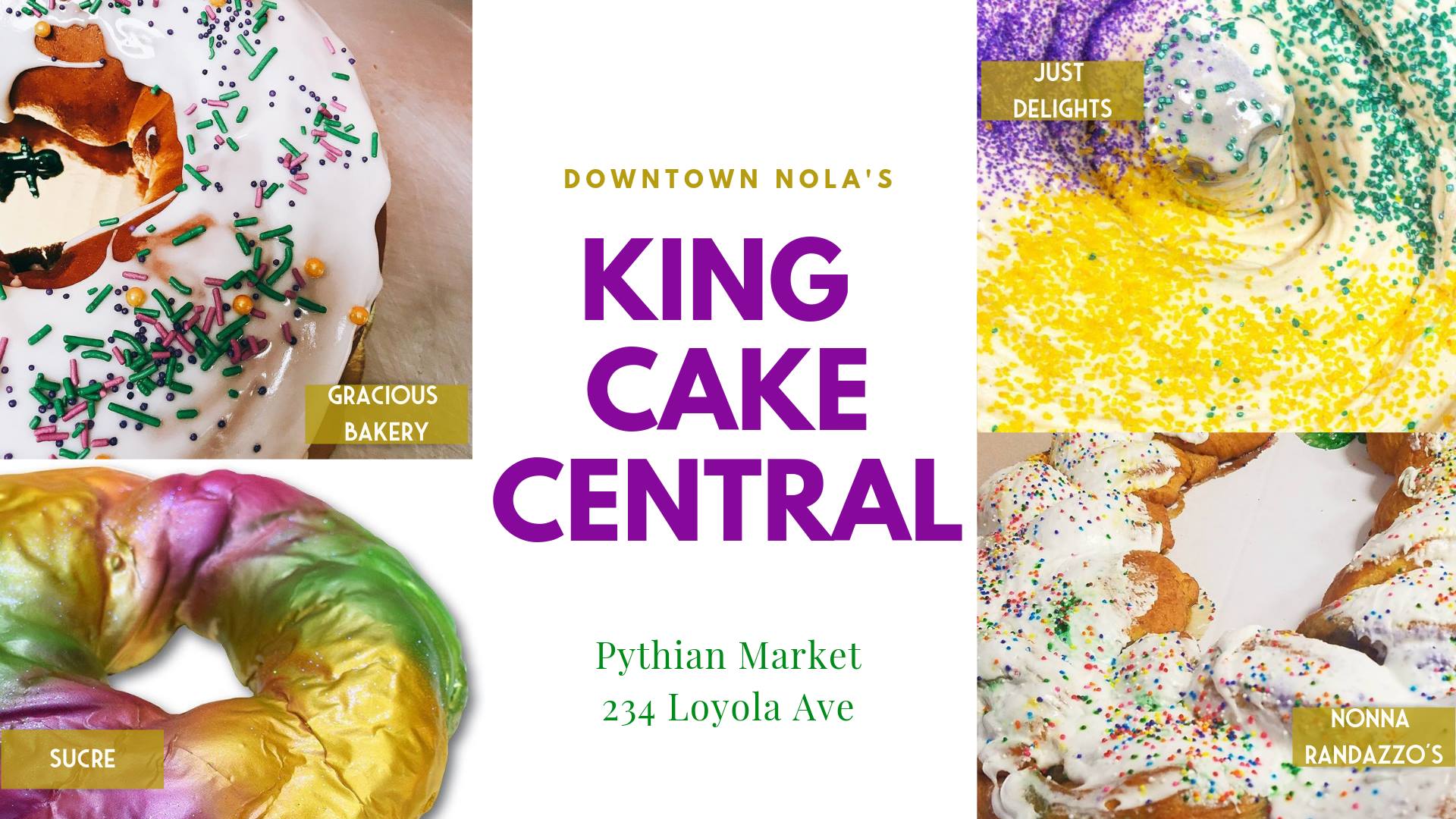 Let's get in the Mardi Gras Spirit, Downtown New Orleans! Pythian Market is proud to present Downtown NOLA's King Cake Central.
More than a food hall, Pythian Market is a place for community and a celebration of culture and the arts. It's an incredible place for sweet and savory dishes. There's something here for everybody of all ages to enjoy.
From Jan 6 – March 5, 4 iconic New Orleans bakeries will be selling king cakes at Pythian Market :
– Gracious Bakery King Cake: $20
– Sucré New Orleans King Cake : $25
– Nonna Randazzo's Bakery King Cake: $18
– Just Delights Queen Cake Ice Cream Pints: $9
– All king cakes by the slice: $4
Stop by every day from 8am – 3pm and grab a king cake or two for your coworkers, family & friends!
Whether you're here with your spouse and kids on vacation, with your coworkers for a convention or conference, these are sweet treats you cannot beat!
L.A. Lakers at New Orleans Pelicans – Saturday, 02/23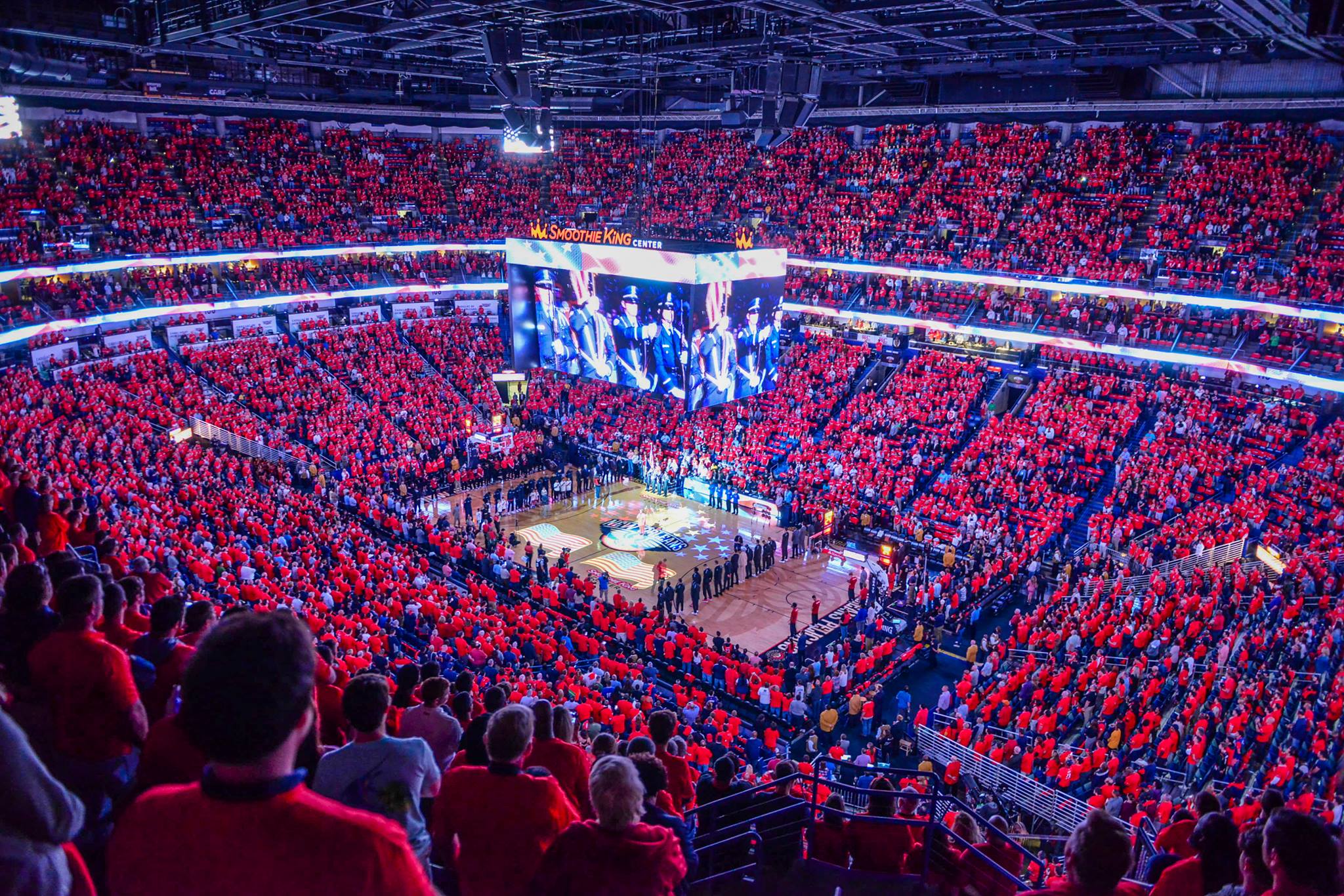 Had your fill of king cake already? We hope not!
But either way, the L.A. Lakers and the New Orleans Pelicans, two NBA teams, will face off at the Smoothie King Center this Saturday at 6PM.
Doors open at 5PM. Parking is cash only, but we recommend Uber or Lyft, which might save you some money.
Tickets for the can be bought here.
Philadelphia 76ers at New Orleans Pelicans – Monday, 02/25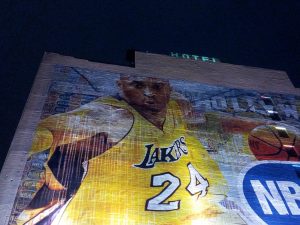 If you can't make the Lakers-Pelicans game, there will be another against the Philadelphia 76ers on the 25th at 7PM, if you're still in town for it.
Both NBA teams will face off at the Smoothie King Center this Saturday at 7PM. Doors open at 6PM.
Parking is cash only, but we recommend Uber or Lyft, which might save you some money.
Tickets for the can be bought here.
August 31st, 2018 – December 31st, 2019 – "We Love You, New Orleans" @ The Cabildo
Your visit to New Orleans' historic French Quarter would not be complete without a stop at Jackson Square, which is where you will find the Cabildo. This elegant Spanish colonial building neighbors St. Louis Cathedral and houses many rare artifacts of America's history.
In commemoration of the city's 300th anniversary, the Louisiana State Museum debuted a new exhibition, We Love You, New Orleans!, celebrating people, places, and things that are quintessentially New Orleans including Sidney Bechet's saxophone, a Mardi Gras Indian suit, memorabilia from Pontchartrain Park, and a K&B sign, among other things.
Hours are Tuesdays – Saturdays, 10AM – 4:30PM.
Ticket Info:
Adults – $9
Students, senior citizens, active military – $7
Children 6 and under – Free
Groups of 15 or more (with reservations) – 20 % discount
School Groups (with reservations) – Free
Purchase tickets for two or more museums – 20 % discount
AAA membership discount – 10 % discount
You can learn more about the Cabildo and this event here!
Experience photographer and architect Nell Dickerson's photo exhibit "Gone" at the Hermann-Grima House.
Dr. Lisa Thompson's  "Single Black Female" is a two-woman show with rapid-fire comic vignettes. She explores the lives of thirty-something African American middle-class women in urban America as they search for love, clothes, and dignity. This is in a world that fails to recognize them amongst a parade of stereotypical images. This week's performances include Friday, 1/4 through Sunday, 1/6.
Saturdays & Sundays: Jazz Brunch at Commander's Palace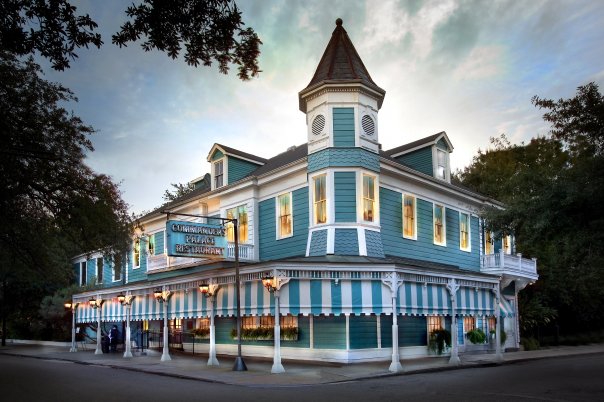 Commander's Palace, nestled in the heart of the historic New Orleans Garden District and steps from the St. Charles Avenue streetcar line, is the birthplace of the Jazz Brunch – a clever response to famous New Orleans traditions, such as "Dinner at Antoine's" and "Breakfast at Brennan's". This is a one-of-a-kind event and is entirely different from what you would get with the lunch and dinner menu here. It features a special menu and Live New Orleans Jazz by the Joe Simon's Jazz Trio.
The following items that you can probably expect to see on the menu are the Turtle Soup, Candy Apple Lacquered Quail, the Creole Gumbo, Pecan Roasted Gulf Fish, Cochon De Lait Eggs Benedict, Buttermilk Biscuits, and Sugarcane & Black Pepper Bacon. Oh, and don't forget the desserts! Get "The Queen of Creole Desserts" – the Creole Bread Pudding Souffle – with a warm whiskey sauce added table side. Both this and the Strawberry Shortcake must be ordered in advance. Also great desserts are Lally's Praline Parfait, as well as the Pecan Pie a la Mode. Here is a sample menu – there's something on here that everyone can enjoy, from age 6 to age 90.
Jazz Brunch Hours:
Saturday 11AM – 1PM
Sunday 10AM – 1:30PM
You'll want to dress nice for this occasion and especially make sure the kids are dressed in their "Sunday best".
The official Dress Code:
Business Attire
Gentlemen should wear jackets
Collared shirts and closed-toe shoes required for gentlemen
No shorts, flip-flops, t-shirts, sweat shirts, or sweat pants
Jeans are discouraged
There is complimentary valet service provided, so that you don't have to worry about parking.
Other Exciting Things Going On for Families Visiting New Orleans
While in New Orleans this week, there are numerous venues include tours such as walking Tours of the French Quarter, Swamp Tours,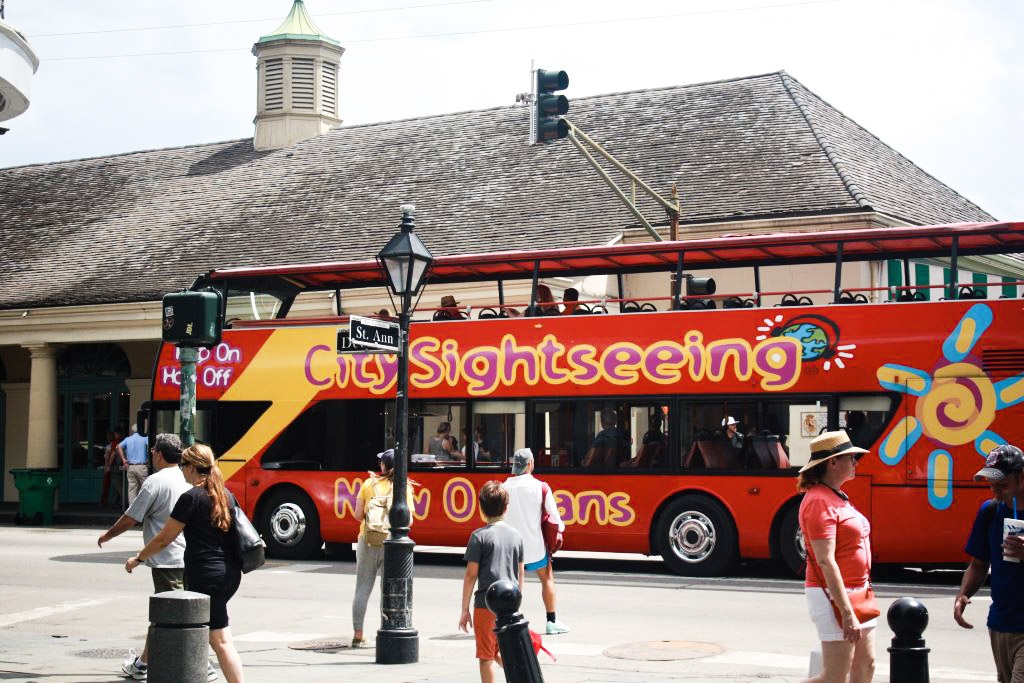 Plantation Tours, Cemetery tours, and many others found under our Tours menu tab.
For Families Visiting New Orleans the fun places to go, the food, and activities are endless. Each week, we provide the Fun Happening This Week in New Orleans offering the Family Friendly activities that can be enjoyed by all members of the family. Come back next week for our updates. Consider following us on Social Media and subscribing to our monthly newsletter, Family Fun In New Orleans! We aim to be the resource for activities, food, shopping, and hotels geared towards all ages. 
Come on down as the Cajun French from Louisiana say "Laissez les bons temps rouler", let the good times roll!